Made in China.
The label that has defined the outsourcing boom of our generation can be seen on articles of clothing, toys, or even unnoticed in our juice in the form of concentrate. Continually, economists are monitoring the growth of China and the rest of the Asian countries; the behemoths of the continent are India and China. As the year progresses, Chinese and Indian economies will be wrestling with politics, as the problems of overextended bureaucracy, political power plays, freedom, and censorship begin to trickle in these nations to slow growth.
It will be interesting should Rahul Gandhi face off against Narendra Modi in a race for Prime Minister of India.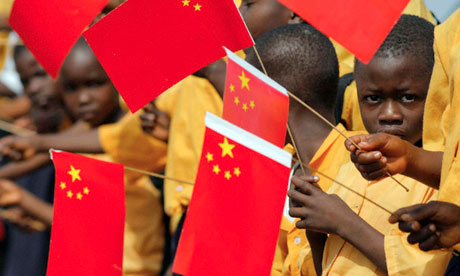 Little has been mentioned in this article about Chinese
colonialism in Africa, but has been mentioned in this blog
before. China is rapidly expanding their influence in
Africa to keep a steady supply of raw resources.
Empty streets, buildings are the indicators of a Chinese
ghost city. Quite eerie.
The Chinese military has been attacking the United States
through hacking.
This is not surprising. Pakistan has been in the news for mostly negative events lately. The latest event was a nine year old Pakistani girl raped by three men in the Punjab province. This is an addition to internet censorship of sites such as Youtube for a few videos insulting the Prophet Mohammed. Instances of rape in Pakistan have increased from 778 in 2008 to 928 in 2010, and there is little justice being offered. Mukthar Mai was gang raped in 2002, and the trial went all the way to the Supreme Court. Of the 14 men who raped her, 13 of them were acquitted while the one received life in prison.
Pakistan needs reform to counter religious extremism that
is preventing economic growth.
Overall, Asia will once again be one of the heavier indicators of global economic growth. There are many countries and events to mention, including the recent anti-deflation efforts of the Japanese central bank or a decline in the South Korea's GDP growth, but that could be a separate article. Overall, it is expected the following will occur in 2013 for Asia:
Japan will battle deflation through 2013 as already seen in the news, with full support from Western countries. This will not be an easy task, and Japan most likely will see increased volatility as the Central Bank struggles for control

China will have to introduce more sustainable policies under Mr. Xi, resulting in lower growth targets. Additionally, the abysmal environmental conditions will have to be addressed by the Chinese government instead of silencing whistle blowers.

Indian politics leading to the election of 2014 will prevent progressive policies from being introduced by Mr. Singh, and as a result hinder foreign investment leading to a failure in meeting growth targets.

Worries of Pakistan instability will increase around the world as the country's rulers slowly lose control of the divisive factions of the country. Extremism will drive continual violence preventing economic growth, and could force the IMF to introduce sanctions should Pakistan's government not be able to control their population.